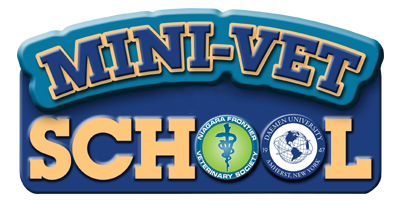 Mini-Vet School is a five-week series of lectures by the most accomplished and dynamic veterinarians in Western New York. For two hours each week, they will lead you on a fascinating journey of animal discovery.
The 2023 Mini Vet School registration has begun. If you would like to participate in this year's classes, please use the registration information below to sign up. Or contact us with any questions.
Each Mini-Vet School lecture is a "course" in a subject covered in veterinary school. Classes run for five weeks on Thursday evenings, October 5, 2023 to November 2, 2023 from 7-9 pm on the Daemen University campus, 4380 Main Street, Amherst, NY, in Schenck Hall, Room 107. Some classes are interactive so smart phones/i-Pads are suggested.
Mini-Vet is designed for animal lovers, pet owners, someone interested in a career in veterinary medicine, etc. Animals have a documented beneficial effect on our physical and psychological well-being. Educating ourselves on animal health can help ensure that our beloved companion pets and wild animals receive the best care possible.
Mini-Veterinary School graduates will not be eligible to practice veterinary medicine, but will have a better understanding of animals' health! They will, however, receive a certificate attesting to the completion of 10 hours of veterinary science.
Register Now, seating is limited. Cost for the series is $70 per person. $50 for seniors (60+) and students. Individual dates are $25 each.
To register online, please scan the QR code, or visit https://nfvs.square.site
Here are links to this year's flyer, brochure and poster.
Sponsors for the 2023 Mini-Vet School Include:
Host
Speaker Sponsor
Gold Sponsor
Silver Sponsor
Bronze Sponsor

A portion of MiniVet proceeds benefits the Pet Emergency Fund